23 auto-related companies tabulated on 2020 Fortune China Top 500 list
2020/7/31 21:22:18
Editor:Amanda
Font Size:Big Medium Small
Fortune China released on July 27 the list of China's top 500 public companies, whose total revenues in 2019 reached RMB50.5 trillion, a year-on-year increase of 11%.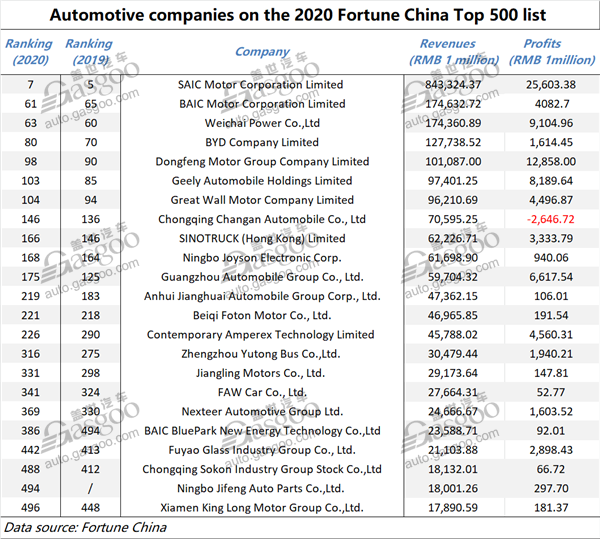 Net profits of the top 500 companies in China aggregated RMB4.2 trillion last year, representing a year-on-year jump of 16%, versus a 4.21% increase for the year-ago period, said Fortune China.
There were a total of 23 automotive companies (including OEMs and auto parts suppliers) entered the 2020 Top 500 list, one company more than that of the previous year.
SAIC Motor was still the champion auto-related company, while dropped two spots to the 7th on the list. Besides, it 2019 revenues shrank 6.53% year on year to 843,324.37 million yuan ($120.53 billion).
BAIC Motor and Weichai Power were still among the top three automotive companies, while got their places swapped compared to the prior-year ranking.
BYD Company Limited was ranked 80th on the top 500 list, slipping 10 spots over a year earlier. Both Great Wall Motor and Geely Automobile failed to enter the top 100 this time, which were ranked 103th and 104th respectively. GAC Group was the occupant of the 175th place, sliding 50 spots from the previous year.
BAIC BluePark was honored the fastest-growing automotive company with its ranking moving up 108 spots to the 386th. However, Chongqing Sokon faced the steepest drop, slipping 76 places to the 488th.
Chongqing Changan, the No.8 auto-related company ranked 146th on the list, is the only one that recorded profit loss in 2019.
Gasgoo