Fei Yue Tyres opens fourth branch in Kota Samarahan
2019-5-22 21:41:28
Editor:Amanda
Font Size:Big Medium Small
Fei Yue Tyres has opened a fourth branch in Sarawak, here yesterday.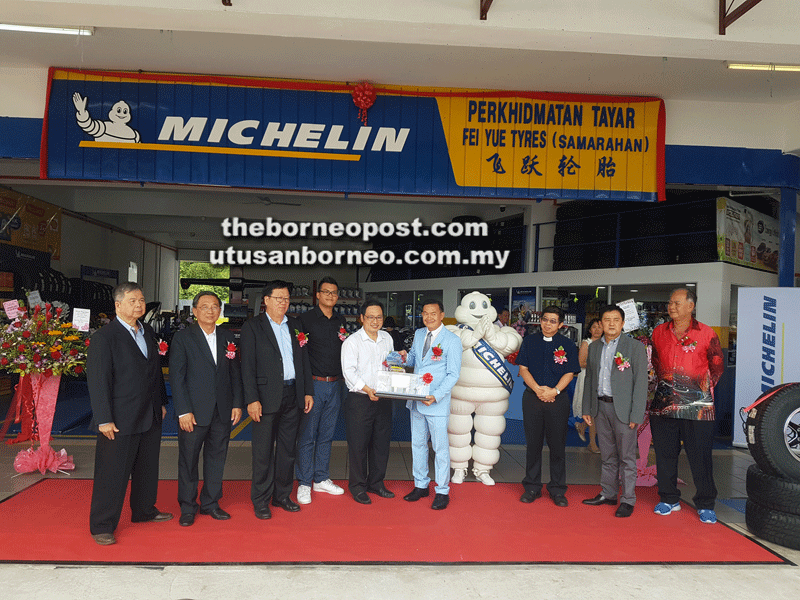 According to its managing director Ngieng Hock Teck, the Kota Samarahan branch is also the company's first one outside of Sibu.He said Kota Samarahan was chosen because its population is growing.
"We have been operating for 20 years and with this latest outlet, we hope to serve the people of Kota Samarahan with quality services. The people of Kota Samarahan and nearby areas in need of good tyre servicing, please check out our latest outlet," he added.
Fei Yue Tyres is a vehicle tyre service centre specialising in Michelin tyres, which is a French tyre manufacturer based in Clermont-Ferrand in the Auvergne région of France, and is the second largest tyre manufacturer in the world.
Deputy Minister of Domestic Trade and Consumer Affairs Chong Chieng Jen had the honour to officiate at the opening ceremony yesterday.
In his speech, Chong said he was glad to see more businesses opening and expanding in the country, proof that the Pakatan Harapan (PH) federal government was doing well to assist Malaysian businesses.
He said, for example, the federal government has refunded RM17.1 billion out of the RM37 billion in GST and income tax to taxpayers as of April 30.
"The refunds were paid to more than 70,000 businesses, which shows the PH government is very committed in assisting Malaysian businesses," he said.
Michelin Malaysia sales director Alex Le and other officials including heads of various Chinese-based associations and organsations were also present at the opening ceremony.
The Borneo Post