Over 20 bln yuan of trade reached in Guangrao Tire Exhibition
2019-5-20 21:35:10
Editor:Amanda
Font Size:Big Medium Small
The 10th Guangrao International Rubber Tire & Auto Parts Exhibition was closed on May 17.
According to primary calculation, there were over 20 billion yuan of contracts signed on the exhibition during May 15 to 16.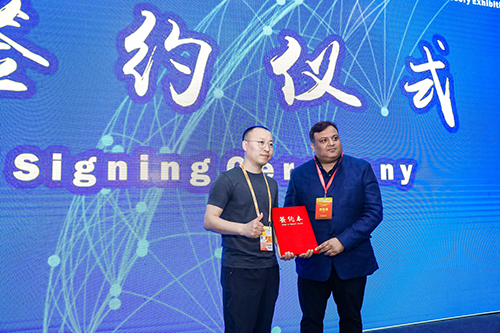 Guangrao Tire Exhibition is the first professional rubber tire exhibition certificated by UFI in China.
Under the theme of "Convert the energy, Twirl the world," the forum set May 15th as China (Guangrao) International Tire Day, issued a Blue Book on the international competitiveness of China's tire enterprises, and focused on topics such as the automotive intelligent tires market, coordination of industrial upgrading of the auto and tire industry, integration of the auto accessory industry with the global market, and the "going abroad" drive of domestic tire industry.
Government officials and representatives of chambers of commerce from South Korea, South Africa, Malaysia, Israel and Spain delivered speeches during the opening session, expressing hopes for further economic and trade cooperation with China in this particular sector.
In the newly-issued Blue Book, an evaluation system for international competitiveness of China's tire enterprises is introduced based on six perspectives, including the type and scale of exports, market positioning and business environment, brand influence, innovation and products, corporate social responsibility (CSR), as well as operations management.
During the keynote speech session, experts, researchers and business leaders shed lights on topics such as the export prospects of China's rubber tire industry, the international trade and investment situation in the auto accessories sector, developing trends in the global commercial vehicle industry, as well as innovation of the supply chain in automotive aftersales market.
A dialogue on the theme of "collaborative innovation to facilitate transformation and upgrading in manufacturing" was also held, in which new materials, technologies and emerging trends in the manufacturing industry were discussed.
Tirewolrd