Zhongce Rubber plans to expand capacity in 2018
2018-2-1 10:01:34
Editor:Amanda
Font Size:Big Medium Small
Building on its successes in 2017, China's Zhongce Rubber Group hopes to double-digit increases in sales and production capacities — with additional capacity expansions and new product lines throughout the next year.
Ge Guorong, Zhongce Rubber Vice President told dealers at its distributor conference in Bangkok on Jan. 28 that it is targeting expansion as a priority in 2018, with "low cost, value-added services and platform" as key initiatives for its retail customers.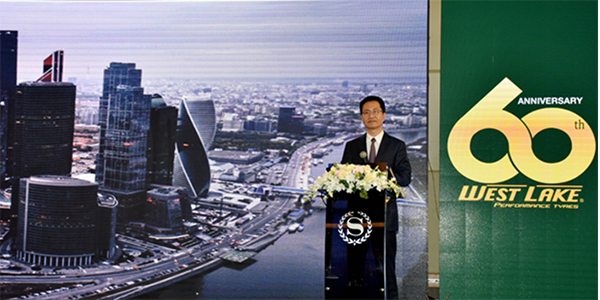 The conference theme was "More Progress, More Achievement."
Zhongce Rubber's global sales increased 22 percent last year, Mr. Ge said, which would put the company's sales in the $3.3 billion range, depending on currency exchange rates.
Mr. Ge told dealers at the conference that ZC Rubber expanded capacity in three key sectors last year by double digits:Passenger car and light truck tire capacity increased 20.7 percent to 32.5 million units per year;Two-wheel tire capacity increased 14.6 percent to 94.1 million tires; andTruck and bus radial tire capacity increased 13.6 percent to 17.2 million units a year.Mr. Ge said sales of passenger/light truck tires reached 32.5 million units in 2017, more than a third of which were sold in China.
"It is great result for us with the effort of all members of Zhongce family," he told dealers. "Thank you for your support and contribution in 2017."
Mr. Ge said Zhongce's Thailand factory played an important role in the firm's global expansion by producing 4.4 million passenger and 1.4 million truck/bus tires, improving market share there.
Zhongce reported that its two-wheeler tire business revenue increased to more than $30 million, and that it is working on developing new tires with two bicycle-sharing companies in China, Beijing Mobike Technology Co. Ltd. and Ofo.
Zhongce Rubber also is supporting the operation of the "Auto Space" consumer and commercial store business, which has opened more than 10,000 locations in China and which opened a pair of stores covering Zhongce Rubber's Goodride and Westlak brands last year in Thailand.
Separately, the company has developed a cloud-based "smart tire system" for truck owners and trucking fleets to help them manage their tire maintenance remotely. Zhongce's U.S. subsidiary, Zhongce Rubber Americas Inc., unveiled the system at the Specialty Equipment Market Association (SEMA) show in Las Vegas.
Zhongce Rubber also opened a branch office last year in Frankfurt, Germany —Zhongce Europe G.m.b.H. — to increase its presence in Europe.
Tirebusiness