Deruibo tire collapsed, more following
2015-2-13 16:35:00
Editor:Amanda
Font Size:Big Medium Small
China's Deruibo tire has been sealed up byShandong Guangrao Courtsince Feb.7. Recently, asset liquidation team also started working on Deruibo tire's bankruptcy from Feb.9.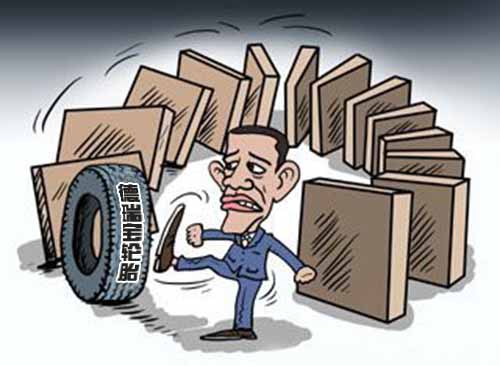 Heavy debt weighs down Deruibo
Industrial experts said that blind investment and no experience in tire industry made Deruibo tire to be the first sacrificial lamb whenChina's tire industry got into winter.
Shandong Deruibao Tire Co.,ltd. established in December 2009, is claimed as a steel radial tires, semi-steel radial tire research and development, production, marketing and international trade in one of the large modern tire company, the registered capital of 210 million.
But until Deruibo tire filed for bankruptcy, the company has been in 4.7 billion yuan of debt, with 2 billion yuan of loan from banks.
Deruibo tire has stepped into difficulties since 2012, an ex-worker in Deruibo tire told Tireworld.com.cn.
Actually, Deruibo's mother company Shandong Haolong Group has filed for bankruptcy several times before, but was refused by local government, and lived on loan until now, the ex-worker said.
More tire makers may collapse
WithUSA's antidumping and anti-subsidiary investigation starting from the second half year in 2014, tire makers' investment in Guangrao begun cooling down.
Before that, local tire makers often supplied assurance for each other. Deruibao's guarantee included Qingdao Double Star, Saixiang Technology, MESNAC and Greatoo Inc, and gained up to 894 million yuan of guarantee quota from the four guarantees by the end of 2012.
Now, Deruibo tire's loan has definitely become four companies' bad debt.
With USA levies heavy duties on Chinese tire products since January 2015, analysts predicts that Deruibo tire won't be the only one falling down, which means bad debts in Guangrao would be a serious risk in the near future.
Tireworld