China's PV wholesale volume in Jan falls 16.7% over a year ago
2019-2-22 19:11:24
Editor:Amanda
Font Size:Big Medium Small
According to the China Passenger Car Association (CPCA), China's passenger vehicle (PV) retail sales reached 2,161,037 units in January, declining 4.0% over a year ago. Meanwhile, the country's PV wholesale volume also slid 16.7% from the previous year (the "PV" mentioned here refers to cars, SUVs and MPVs locally produced in China).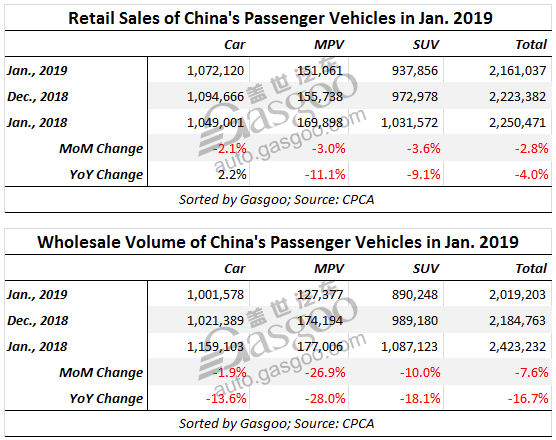 Retail sales of the car segment achieved a year-on-year growth of 2.2%. However, the retail sales of the MPV and the SUV segments declined 11.1% and 9.1% from a year ago respectively.
As to wholesale volume, the car, MPV and SUV segments all suffered double-digit year-on-year drop.
The other noteworthy phenomenon is that all three segments faced month-on-month decrease in terms of both retail sales and wholesale volume.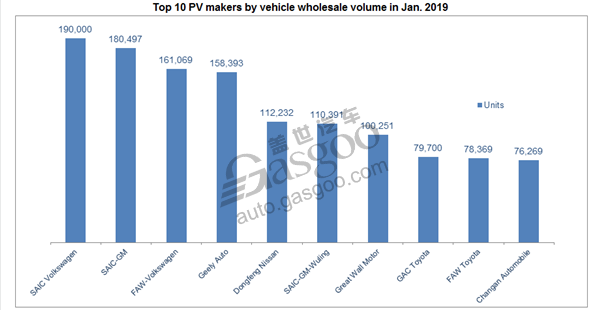 Compared to December, 2018, the top 3 PV makers by Jan. 2019 wholesale volume remained unchanged. SAIC-GM was still the runner-up, while SAIC Volkswagen and FAW-Volkswagen got their positions exchanged. SAIC Volkswagen topped other PV makers with a monthly wholesale volume of 190,000 units.
Geely Auto returned the 4th place last month. It had been long occupying the No.4 place in most days in 2018, while dropped to the 7th place in December.
The fifth to seventh places were held by Dongfeng Nissan, SAIC-GM-Wuling and Great Wall Motor, among which the former two were regulars of the top 10 list. It was also the fourth month in a row for Great Wall Motor that entered the top 10 list.
PV makers ranked eighth to tenth were totally different from the previous month. Beijing Hyundai, SAIC Motor PV and Dongfeng Honda were not included this time, which were replaced with GAC Toyota, FAW Toyota and Changan Automobile respectively.
Gasgoo