Sales of Chinese mainstream automakers in January, 2019
2019-2-22 18:56:08
Editor:Amanda
Font Size:Big Medium Small
Gasgoo compiled the monthly sales released by nine mainstream Chinese automakers as usually. In January, the top three automakers in the below table all suffered year-on-year decrease. Changan Automobile was struck by the biggest drop of 40.1%. Although the last four companies have no advantage in absolute sales volume, they all attained positive growth compared with a year ago.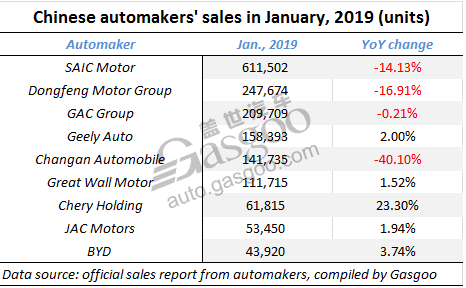 SAIC Motor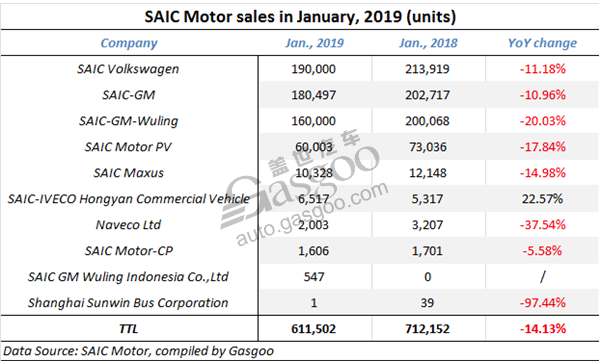 SAIC Motor sold 611,502 vehicles last month, suffering an apparent drop of 14.13% compared with the same period a year ago. It has to be mentioned that the sales number of SAIC GM Wuling Indonesia Co.,Ltd is newly added into the group's sales report from January 2019.
Aside from SAIC-IVECO Hongyan Commercial Vehicle whose Jan. sales jumped 22.57%, the other subsidiaries all suffered year-on-year (YoY) drop. SAIC Volkswagen and SAIC-GM, two profit mainstays for SAIC Motor, should face double-digit decline. Besides, SAIC Motor PV and SAIC-GM-Wuling saw their sales in January slide 17.84% and 20.03% respectively.
Dongfeng Motor Group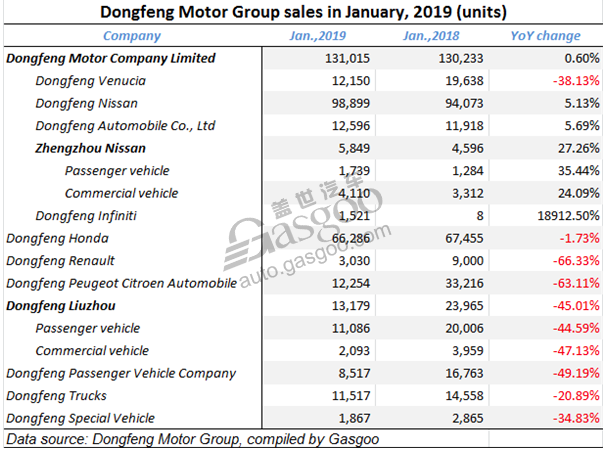 In January, Dongfeng Motor Group saw its sales shrank 16.91% over the previous year to 247,674 units. Of that, its PV sales totaled 215,682 units, falling 17.50%. The SUV and MPV sales reached 94,615 units and 12,068 units, sliding 29.91% and 19.05% year on year respectively. The car sales also edged down 2.29% to 108,999 units.
Dongfeng Motor Company Limited gained a slight growth of 0.6% last month. Except Dongfeng Venucia, the other business branches all achieved sales increase. Especially, Dongfeng Infiniti sold 1,521 vehicles, a splendid surge compared with the sales volume of 8 units for Jan. 2018.
Dongfeng Honda and two Sino-French joint ventures failed to realize positive growth. Both Dongfeng Renault and DPCA suffered YoY plunge of over 60%.
GAC Group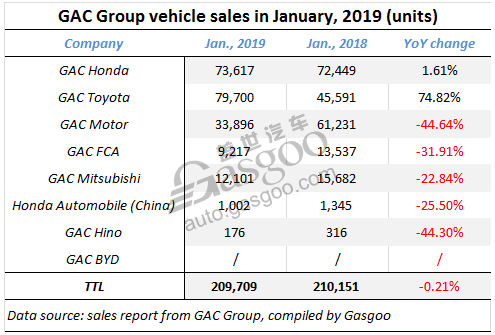 GAC Group reported that its sales in January edge down 0.21% from the previous year to 209,709 units. It is noteworthy that the joint venture GAC Toyota enjoyed a year-on-year (YoY) surge of 74.82% in the first month of 2019, which is in sharp contrast with GAC Motor's plunge of 44.64%.
GAC Motor sold 33,896 vehicles with a YoY plunge of 44.64%, completing 5.65% of its 600,000-unit sales target. The group's self-owned PV subsidiary is going to roll out the GM6 MPV, the change-over of the GA6, the mid-cycle refresh of the GS8 as well as the Aion S all-electric sedan in 2019.
GAC Honda saw its Jan. sales edge up 1.61% to 73,617 units. Last year, the joint venture's sales totaled 741,377 units with a YoY increase of 5.16%, completing 98.85% of its sales goal. Its sales mainstay, the Accord, with 23,649 units delivered last month, had a YoY growth of 24.9%.
Geely Auto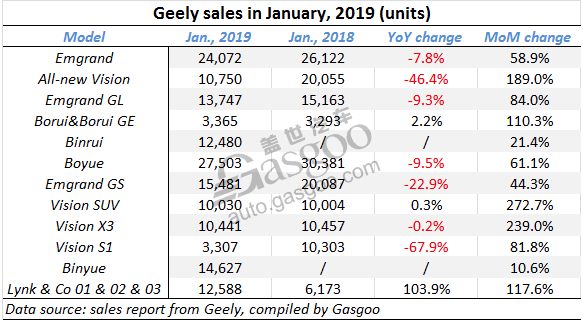 Geely Auto posts a year-on-year (YoY) growth of 2% with 158,393 vehicles delivered in January, the automaker said on February 11. Compared to the performance of last December, the company gained a remarkable jump of around 70%.
As for the comparison over the deliveries a month ago, all models achieved positive growth. Particularly, the Jan. sales of the all-new Vision, the Borui series, the Vision SUV, the Vision X3 and the Lynk & Co-branded cars all presented month-on-month (MoM) surge of over 100%.
Lynk & Co car brand saw its sales in January doubled compared with a year ago thanks to the enlarged product lineup. To be specific, the sales of the Lynk & Co 01, 02 and 03 amounted to 6,182 units, 2,032 units and 4,374 units respectively.
In addition, Jan. sales of new energy vehicle models reached 9,022 units in total.
Changan Automobile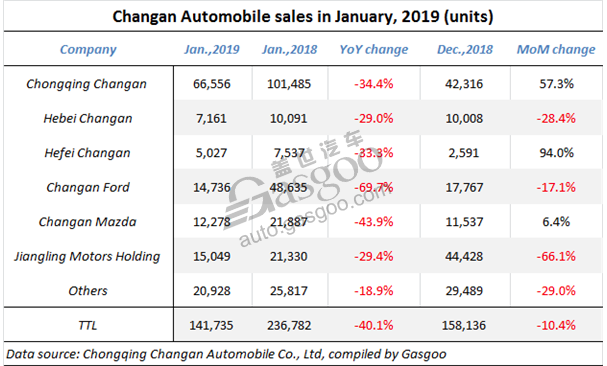 Chongqing Changan Automobile Co., Ltd (Changan Automobile) said its vehicle sales in January amounted to 141,735 units, plunging 40.1% over a year ago and dropping 10.4% compared with the previous month.
Compared with the same period a year ago, major joint ventures all suffered significant drop. Both Changan Ford and Changan Mazda faced year-on-year plunge of over 40%. Particularly, Changan Ford had met a 30.8% slump in January 2018 from the same period in 2017.
Great Wall Motor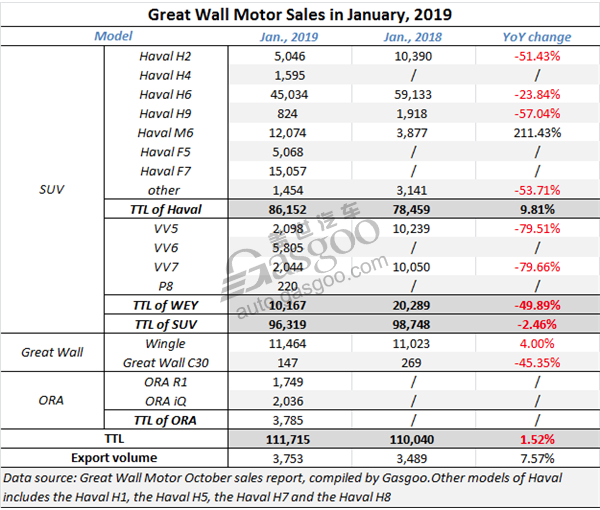 Great Wall Motor, selling 111,715 vehicles in January, posted a slight year-on-year (YoY) growth of 1.52%. Export volume reached 3,753 units, climbing 7.57% from a year ago. During the first month of 2019, it has completed 9.3% of the 1.2 million-unit sales target.
Last month, the company saw its SUV sales edge down 2.46%, which entirely resulted from WEY's sales plunge of 49.89% despite the increase made by Haval SUVs. The Haval H6, as the absolute mainstay for Haval brand, had a sales volume of 45,034 units.
ORA, a NEV brand launched last year, sold 3,785 vehicles in January with a remarkable month-on-month surge of 258.77%. To be specific, the sales of the ORA iQ shot up 92.99% from a month ago and the ORA iQ had a sales volume of 2,036 units one month after it went on sale.
Chery Holding
Chery Holding got a favorable start in 2019 with its January car sales jumping 23.3% year on year (YoY) to 61,815 units. Of that, its export volume grew 17.3% from a year ago to 11,751 units and the new energy vehicle sales splendidly leapt 177.3% to 3,996 units.
Quite a few models gained January sales volume topping 10,000 units. The sales of the ARRIZO and the Tiggo were 12,158 units and 10,098 units respectively. It is worth mentioning that the Tiggo has been achieving positive sales increase for 6 consecutive months.
The Jetour saw its sales reached 11,280 units last month. The car brand was launched in January 2018 and has currently rolled out 3 models in total, namely, the Jetour X70 5-seater mid-sized SUV, the Jetour X70S mid-sized SUV and the Jetour X90 7-seater SUV, which just hit the market on January 13.
JAC Motors
JAC Motors posts a YoY growth of 1.94% in Jan. sales. Its MPV sales dropped 4.32%, while SUV and car sales rose 3.36% and 16.69% over a year ago respectively.
Actually, the light truck and SUV, the only two business sectors that had sales volume exceeding 10,000 units, both accomplished positive growth, which counteracted the decreases from other sectors and help the automaker finally realize positive growth.
Besides, a total of 6,051 all-electric passenger vehicles were sold last month with a significant jump of 67.11%. The export volume for JAC Motors shrank 24.86% to 4,814 units.
BYD
BYD Company Limited announced that its sales volume in January grew 3.74% from a year earlier to 43,920 units, while tumbled 36.9% compared with a month ago.
The sales of new energy vehicles skyrocketed 291.11% year on year (YoY) to 28,668 units, which substantially offset the YoY plunge of 56.43% in Jan. sales of oil-fueled vehicles (with 15,252 units delivered).
All segments of new energy vehicle achieved positive YoY increase in January. The sales of new energy passenger vehicles totaled 28,005 units with a splendid YoY surge of 291.62%, among which the sales of plug-in hybrid electric vehicles soared 65.79% to 11,786 units. It's worth mentioning that the battery electric vehicle segment, with 16,219 units delivered, enjoyed a marvelous leap up to 38516.67%.
All segments of oil-fuel vehicle came across substantial sales drop last month. The sales of MPVs posted the biggest decline of 66.6% with 5,033 units sold. Besides, the sales of sedans and SUVs plunged 64.95% and 22.37% respectively over the previous year to 4,330 units and 5,889 units.
Gasgoo