Top 10 sedan, SUV models by wholesale volume in Jan. 2019
2019-2-22 19:07:13
Editor:Amanda
Font Size:Big Medium Small
According to the China Passenger Car Association (CPCA), China's passenger vehicle (PV) retail sales reached 2,161,037 units in January, declining 4.0% over a year ago. Meanwhile, the country's PV wholesale volume also slid 16.7% from the previous year to 2,019,203 units (the "PV" mentioned here refers to cars, SUVs and MPVs locally produced in China).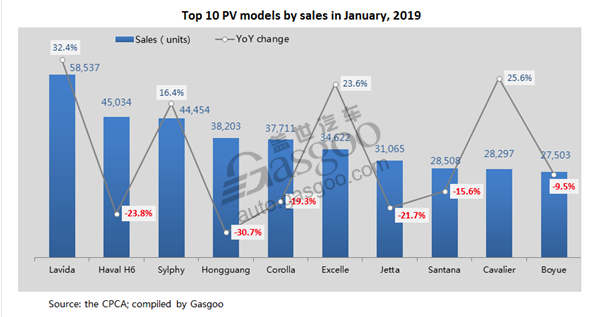 There are only two SUV models included in the top 10 PV models list by Jan. wholesale volume, namely, the Haval H6 and the Boyue. The Hongguang was the only one MPV model that entered the list despite a significant year-on-year drop of 30.7%.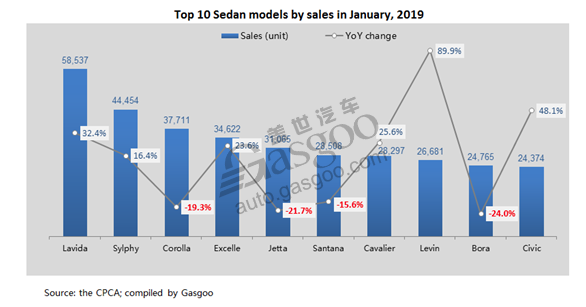 The monthly sales of the Lavida hit a new high of 58,537 units, jumping 32.4% over a year earlier. The launch of the Lavida PLUS helps SAIC Volkswagen strengthen its competency in the A+ sedan segment market. Meanwhile, the substantial price cut for part of regions and the favorable reputation on the existing Lavida are also facts that attract consumers to buy it.In January, China's wholesale volume of sedans declined 13.6% from a year ago to 1,001,578 units.
Four models among the top 10 sedan models by Jan. wholesale volume suffered double-digit year-on-year drop, including the Corolla, the Jetta, the Santana and the Bora. In addition, the Levin, ranking 8th on the list, enjoyed an impressive sales surge of 89.9%.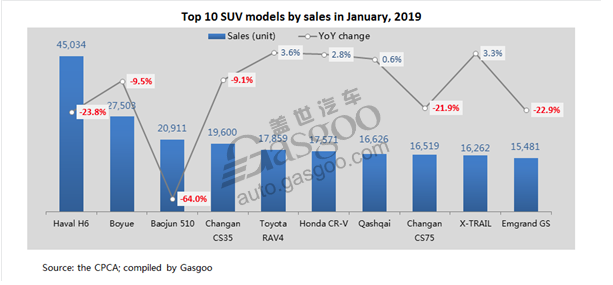 China's SUV wholesale volume shrank 18.1% from the year-ago period to 890,248 units in January.
There are six models among the top 10 SUV models by Jan. wholesale volume facing negative growth. Meanwhile, biggest growth for the other four models reached only 3.6%. A noticeable change is that the Geely Boyue, outnumbering the Baojun 510, moved up to the runner-up place last month. The Haval H6 was still the sales champion, while it came across a substantial year-on-year decrease of 23.8%. What's more, Changan Automobile got two models in the top 10 list, namely, the Changan CS35 and CS75, ranking 4th and 8th respectively.
Gasgoo