China April vehicle sales grow 11.47% YoY
2018-5-14 17:25:16
Editor:Amanda
Font Size:Big Medium Small
In April, the total vehicle outputs and sales in China reached 2.3974 million units and 2.3186 million units, rising 12.27% and 11.47% year on year, while dropping 8.79% and 12.71% versus the performances in March, according to the data released by China Association of Automobile Manufacturers (CAAM).

China's total PV outputs in April reached 1.9998 million units, growing 12.17% year on year, while falling 9.06% month on month. Meanwhile, a total of 1.9144 million PVs were delivered in this country last month, increasing 11.16% from a year ago. The top 10 Chinese automakers by April sales were SAIC Motor, Dongfeng Motor Corporation, FAW Group, BAIC Group, Changan Auto, GAC Group, Geely Auto, Great Wall Motor, Brilliance Auto and Chery Auto. They delivered 2.0542 million vehicles in total last month, accounting for 88.6% of total China's sales.
For the first four months, the total auto outputs and sales in China showed year-on-year growth of 1.78% and 4.78% respectively to 9.4198 million units and 9.5012 million units. Among that, the PV cumulative outputs and sales reached 7.9687 million units and 8.0114 million units, edging up 1% and 4.45% respectively.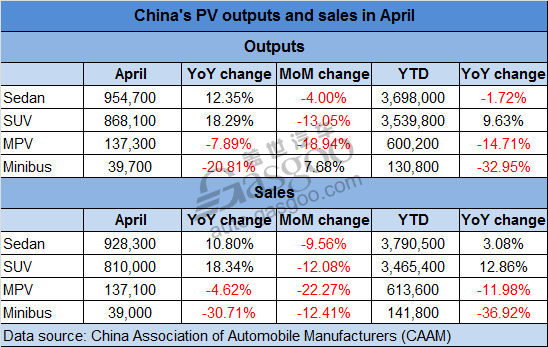 Apart from the minibus, the outputs of the sedan, the SUV and the MPV all showed month-on-month decline in April. Besides, the outputs of both MPV and the minibus decreased 7.89% and 20.81% from a year ago.
As to the sales, all PV segments suffered month-on-month downturn in April. However, the April deliveries of the sedan and the SUV were upward from the previous year.
According to CAAM's data, the cumulative sedan outputs and sales reached 3.698 million units and 3.7905 million units in the first four months, edging down 1.72% year on year and edging up 3.08% over the previous year respectively.
In April, China's SUV outputs and sales were 0.8681 million units and 0.81 million units, jumping 18.29% and 18.34% year on year, while sliding 13.05% and 12.08% versus the previous month.
Gasgoo