Kumho Tire swings back to profit in Q2 in 10 quarters
2019-8-18 21:32:02
Editor:Amanda
Font Size:Big Medium Small
South Korea's Kumho Tire Co., which went under its smaller Chinese rival Doublestar Tyre after years of suffering with dwindling sales and ballooning loss, swung back to profit in the second quarter for the first time in 10 quarters thanks to its aggressive cost-cutting efforts and the weaker Korean won boosting overseas sales.
Kumho Tire said in a regulatory filing on Wednesday that it raised 24 billion won ($19.8 million) in operating income in the April-June period, returning to the black from an operating loss of 14.8 billion won in the previous quarter. Sales reached 617 billion won on a consolidated basis in the same period, up 12.1 percent from the previous quarter but down 0.1 percent from the same period a year ago.
Shares of Kumho Tire finished 0.36 percent higher at 4,190 won on Wednesday. The Korean stock markets were closed on Thursday due to a public holiday.
It was the first time for Kumho Tire to return to profit in 10 quarters after it slipped into the red with an operating loss of 28.1 billion won in the first quarter of 2017 due to poor sales in key markets such as China and Europe amid sluggish global auto demand.
The company returned to profit in the second quarter of this year on brisk sales of original equipment and replacement equipment tires in Korea and a recovery in demand for Korean tires in overseas market thanks to the weakened value of the Korean won against the U.S. dollar. The Korean won fell from 1,122.50 versus the U.S. dollar on the first trading day of this year to 1,155.50 on the last trading session in June, making Korean products cheaper in overseas markets.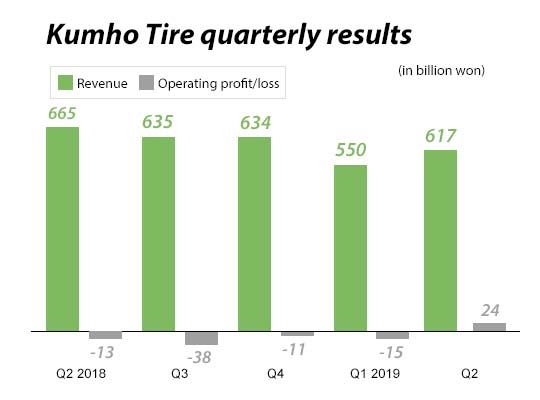 The company's relentless efforts to cut spending has also contributed to the earnings improvement, the company added. Since last year when its new owner Doublestar Tyre took over the company, Kumho Tire has been going all-out to save costs. Qingdao-based Doubledstar bought a major stake in debt-ridden Kumho Tire at 646.3 billion won last July.
Despite Kumho Tire having returned to the black in the second quarter, analysts noted that the company still has not been able to restore its global network that had been lost after suffering with a cash shortage. Without the recovery in its global operation, Kumho Tire, the country's second-largest tire maker, produced 41 million units of tires last year, down from 51 million units in 2014, having Nexen Tire Corp. trail closely behind with 40 million units.
As part of efforts to restore its global operation, Kumho Tire has launched a mid- to long-term project to rebuild its brand in China, the world's largest auto market where it suffered with massive losses following its aggressive facility investment in Tianjin, China, between 2006 and 2008.
According to multiple sources from the tire industry on Wednesday, Kumho Tire recently signed a contract with China's largest public relations services provider BlueFocus to restore its business in China with new business strategies ranging from advertising and marketing to media relations. Kumho Tire and BlueFocus already held a major presentation session on its new Majesty 9 SOLUS TA93·ES33 tire in China in June to bolster sales in China.
Kumho Tire has also created a taskforce consisting of officials from the China headquarters and Korea headquarters and industry experts. The team of several hundred workforce will be responsible for three strategic businesses in the area of product quality, advertising and design, and media relations. The taskforce aims to come up with long-term strategies that will be implemented throughout five years starting next year to rebuild its brand in the country.
Its local entity in China already swung back to profit in May, escaping 30 straight quarters of losses, raising hopes for the company's business prospect in China.
Pluse