Watch! Robot walks into China's tire industry
2014-9-1 9:21:52
Editor:Amanda
Font Size:Big Medium Small
Industrial robots are more and more widely used in tire making in China, which is on track to grow into the world's largest industrial robot market in the coming years, industry observers say.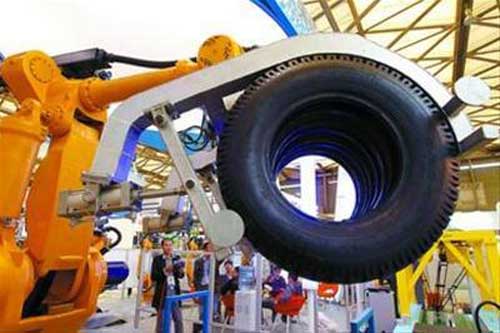 EXTENSIVE APPLICATION OF INDUSTRIAL ROBOTS
Industrial robots are now more and more extensively used in tire production in a bid to cut labor cost.
The application of industrial robot in tire logistics is actually quite mature at present. Finland's Cimcorp, for example, has realized full-automation in the entire logistics chain. A tire freshly rolling off production line could be automatically transported and installed on a truck to complete the assembling process.
Industrial robots are also becoming an integral part of intelligent production. Michelin, Pirelli, Sumitomo, Goodyear, Bridgestone, Continental, and Toyo all have developed their own intelligent production technology.
An industry insider told Tireworld that the application of industrial robots has substantially lowered labor cost and enhanced production efficiency. Before robots are used in tire making, every step of tire production had to be done manually.
Noticing the beauty of automation in tire production, a growing number of Chinese firms have began to seek upgrades in automation equipment, in their bid to streamline production, reduce cost, and raise product quality, said Su Bo, an engineer with Double-Coin.
CHINA TO BECOME WORLD'S LARGEST INDUSTRIAL ROBOT MARKET
China is expected to become the world's largest robot market in term of scale by 2015, according to a report by the International Federation of Robotics (IFR).
At present robots developed by foreign firms take an approximately 90 percent share in China. Fanuc, Yaskawa, Kuka, and ABB snatched about 65 percent market share in China.
In the meantime, swift growth has been seen in domestic firms. Shenyang-based Siasun, Effort in Anhui province, and GSK inGuangzhou represent the top-class robot R&D forces in China.
Although automation techniques have been applied to rubber mixing and transport and tire logistics, huge efforts still have to be done to organically bring all the scattered process together to better make use of automation technology, analysts note.
Along with the constant progress in technology, the domestic tire industry will see explosive growth in demand for industrial robots in the coming few years, especially in automatic warehouse and rubber material transport systems, said Su.
(Edited by Olivia, olivia@tireworld.com.cn)
Tireworld