China's locally-produced new energy PV wholesales soar 43.7% in Aug.
2020/9/15 14:35:40
Editor:Amanda
Font Size:Big Medium Small
In August, China's wholesale volume of locally-produced new energy passenger vehicles (NEPVs) exceeded 100,000 units, surging 43.7% year on year and jumping 23.9% month on month, according to the China Passenger Car Association (CPCA).
The vigorous growth partially owed to the lower base number for the year-ago period, which was suffering a demand slide due to the NEV subsidy adjustment.
"China's NEV market will post high year-on-year growth rate from August, while China's self-owned NEPV unit will still come under pressure in development," said Cui Dongshu, secretary general of the China Passenger Car Association (CPCA).
Startups have gradually become an important player in China's BEV market, with leading companies like NIO, WM Motor, Xpeng Motors, HOZON Auto and AIWAYS moving into the stage of mass production. With 12,820 vehicles sold in August, the startup-owned models accounted for 16% of the total China-made pure electric PV wholesales.
Among the NEPVs sold last month, 82,504 units were BEVs, representing a robust year-on-year increase of 45%, while the PHEV wholesales leapt 23% from a year earlier to 17,505 units.
As for the BEV unit, the car and SUV wholesales rose 61% and 5% over the previous year to 63,234 units and 18,387 units respectively. Only 883 MPVs were sold, while represented an enormous growth of 964% year over year.
The increase in Aug. PHEV wholesales should be credited to the 8% and 110% year-on-year growth in car and SUV sales. However, plug-in MPV wholesales plunged 56% to 1,083 units.
From the angle of segment, the mini-sized vehicle was still the major driver to the overall growth in Aug. BEV wholesales. With 25,432 units sold, the mini-sized segment recorded a robust 42% growth compared to the year-ago period. Besides, the compact BEV wholesale volume fell 7% to 26,712 units, while the mid-sized segment gained a 522% precipitous increase thanks to the popularity of the Tesla Model 3.
Regarding deliveries, roughly 92,700 locally-produced PVs were handed over to consumers in China in August, shooting up from 63,700 units delivered in the prior-year period.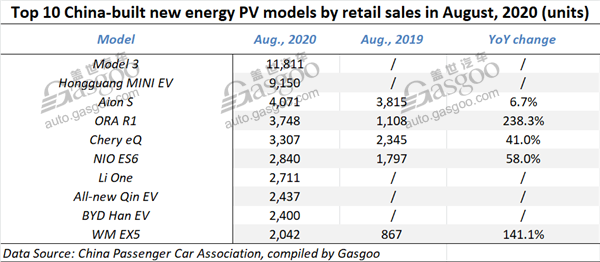 Tesla's Model 3 was once again honored the best-selling China-built NEPV model by single-month retail sales. The runner-up place was taken by the Hongguang MINI, which just hit the market in late July. Besides, both ORA R1 and WM EX5 had a retail sales volume more than doubled over a year ago.

For the first eight months, the deliveries of the China-made Model 3 amounted to 68,579 units, topping the other NEPV models available for sale in China. Notably, retail volumes of the Aion S and the NIO ES6 skyrocketed 152.8% and 495.2% year on year.
Gasgoo