China's Jan.-Nov. vehicle imports drop 4.1% YoY
2020-1-13 21:36:13
Editor:Amanda
Font Size:Big Medium Small
Around 984,000 vehicles were imported into China in the first eleven months of 2019, a year-on-year decline of 4.1%, while the November imports edged up 6% to 104,000 units, according to Sinomach Automobile.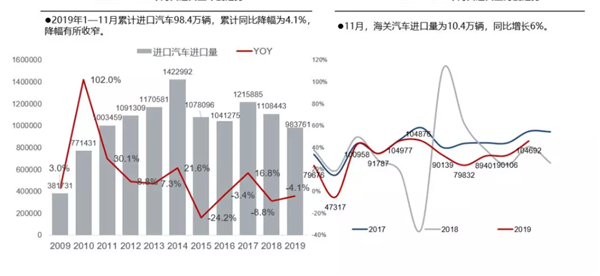 (Photo source: Sinomach Automobile's WeChat account)
China's overall sales of imported vehicles from Jan. to November slid 2.2% year on year to 753,000 units. The November sales fell 4.1% to 74,000 units with the decline shrinking sharply.
The year-to-date passenger vehicle imports as of November decreased 4.4% from the prior-year period, while the monthly PV imports rose 6.1% to 103,000 units thanks to a 19.4% growth in the SUV volume. As to specific segments, Jan.-Nov. imports of car, SUV and MPV declined 7.4%, 1.8% and 8.9% over a year ago respectively.
The main contributors to imported vehicles' sales were cars and SUVs. From Jan. to November, the sales of cars were 362,000 units, falling 4.5% year on year, while the SUV sales grew 3.6% to 384,000 units. However, the MPV sales plunged 65.4% to 6,935 units.
Among the top 10 imported vehicle brands, only Porsche and Audi saw imports decline in November, with the former down by over 50% from the year-ago period. Tesla's monthly imports shot up 528.8% thanks to the launch of the Model 3, and those of Toyota soared 45.5% due to the parallel imports. In the first eleven months, Tesla (218.7%), Toyota (27.6%), Lexus (23.4%), Lincoln and BMW all attained imports increase. For the cumulative retail sales in 2019, Lexus, BMW and Mercedes-Benz were the top three brands, followed by Porsche, Audi and Volkswagen.
Gasgoo