China 2019 auto sales fall 8.2% year on year
2020-1-13 21:31:04
Editor:Amanda
Font Size:Big Medium Small
China auto outputs and sales in 2019 fell 7.5% and 8.2% respectively over a year ago, 3.3 and 5.4 percentage points higher than that of the previous year, according to the China Association of Automobile Manufacturers (CAAM), showing the second year of downturn following 2018.

Both PV and CV sectors recorded decrease in full-year sales. As to outputs, the PV unit posted a decline of 9.2%, whereas the CV unit's year-on-year growth remained positive.
In December, the country saw its auto outputs apparently grow 8.1% year on year, while the sales edge down 0.1%, versus the 3.6% decrease in Nov. sales. Compared to November, both auto outputs and sales chalked up growth.
The association said the smaller decline and month-on-month growth in December were partially due to the consumption potential somewhat unleased by the auto shows and the "Double 12" shopping festival as well as Christmas. Moreover, the Spring Festival holiday in 2020 comes earlier than previous years, correspondingly creating an earlier sales peak season.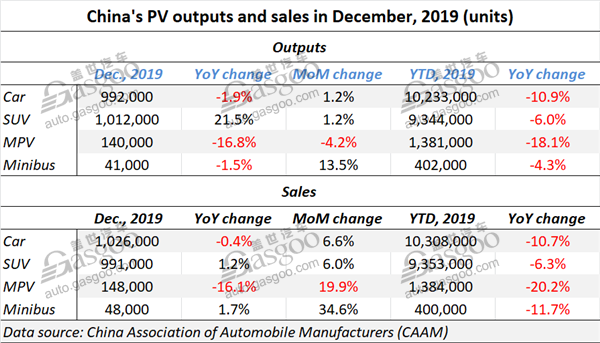 The full-year PV sales in China reached 21.444 million units, shrinking 9.6% from a year ago, 5.5 percentage points more than that of 2018 volume. Of those, 8.407 million units (-15.8%) were from Chinese indigenous brands, which witnessed its annual market share shrink 2.9 percentage points over the prior-year period.
The decrease in PV Dec. sales was further contracted thanks to the increase in SUV and minibus sales and the stable performance of the car volume. Nevertheless, the MPV unit still suffered a double-digit decrease.
Moreover, China's NEV industry closed its 2019 with a 4.0% year-over-year sales decline. Last month, NEV sales surged 71.4% compared to November, but still plunged 27.4% from the year-ago period. The six-month-in-a-row downturn eventually produced the negative result for the year.
Gasgoo