China's PV wholesale volume in April shows 17.4% year-on-year dip,CPCA
2019-5-11 17:16:52
Editor:Amanda
Font Size:Big Medium Small
China's passenger vehicle (PV) wholesale volume in April, 2019 fell 17.4% year on year to 1,550,035 units, according to the China Passenger Car Association (CPCA). By the end of April, the national PV wholesale volume of the year totaled 6,706,163 units, dropping 14.9% from a year ago (PV hereby refers to cars, MPVs and SUVs).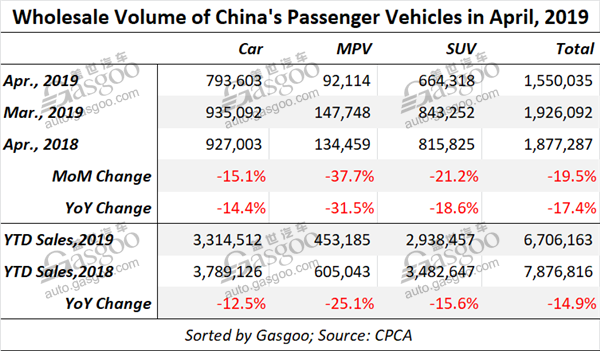 Wholesale volume of cars, MPVs and SUVs in April declined 14.4%, 31.5% and 18.6% respectively compared with the same period a year ago. For the first four months, all three sectors recorded double-digit negative growth, of which the MPV year-to-date (YTD) showed a year-on-year dip up to 25.1%.
Over the previous month, the country's PV wholesale volume shrank 19.5%. The MPV sector was hit by the biggest month-on-month decrease (-37.7%).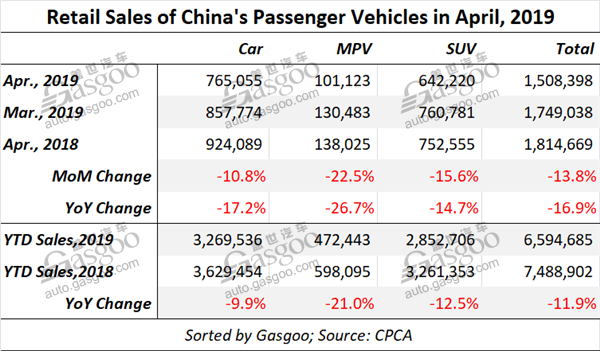 Meanwhile, China's PV retail sales of this year have so far aggregated 6,594,685 units, sliding 11.9% compared with 7,488,902 units delivered during April, 2018. Last month, PV retail sales amounted to 1,508,398 units, down by 16.9% over the year-ago period.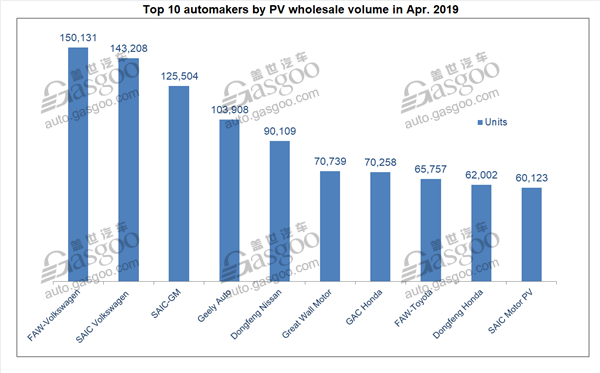 The top 3 automakers by April PV wholesale volume were still FAW-Volkswagen, SAIC Volkswagen and SAIC-GM. However, FAW-Volkswagen outsold the Shanghai-based joint venture, taking the championship last month. Geely Auto and Dongfeng Nissan, ranking 4th and 5th respectively, maintained their rankings over the previous month. SAIC-GM-Wuling, ranking 6th in March, was no longer included in the latest top 10 list with its position replaced with Great Wall Motor.
Compared with March, Dongfeng Honda still held the 9th place, while GAC Honda moved up three places to the 7th. There were two newcomers on the top 10 list—FAW-Toyota and SAIC Motor PV.
Gasgoo