SAIC Volkswagen gets sales growth after 15-successive-month downturn
2019-12-9 19:21:25
Editor:Amanda
Font Size:Big Medium Small
After eleven months of the year passed, SAIC Motor, the Chinese largest automaker, has not got sales rebound yet. According to the latest sales report, the automaker posted 9.58% and 13.33% year-on-year decline in November and year-to-date sales.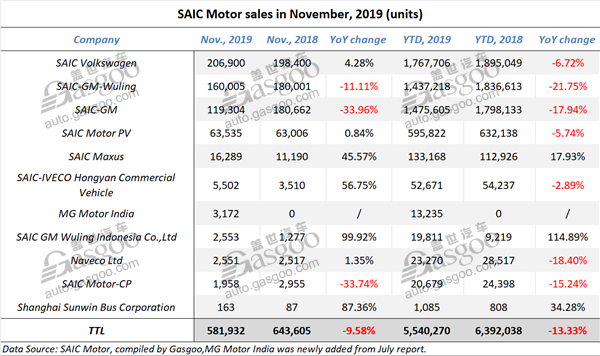 Compared with the previous month, SAIC-GM-Wuling outsold SAIC-GM in November as the latter was hit by a 33.96% year-on-year slump. It is noteworthy that the sales champion, SAIC Volkswagen, achieved growth after 15-consecutive-month downturn.
Apart from SAIC-GM-Wuling, SAIC-GM, MG Motor India and SAIC Motor-CP, the other subsidiaries all realized increase in November sales, a contrast to the year-to-date sales in which most subsidiaries failed to gain growth.
SAIC Motor PV, the group's self-owned PV arm, has so far maintained a rising performance in the second half of the year. Nevertheless, its Jan.-Nov. sales still dipped 5.74% over the previous year.
Furthermore, MG Motor India and SAIC GM Wuling Indonesia Co.,Ltd sold 3,172 vehicles and 2,553 vehicles in November. The two subsidiaries focusing on SAIC's overseas market business have the potential to further boost the group's total sales.
The Shanghai-based auto giant expects its overseas auto sales to reach 1 million units by 2025, according to a senior executive of the company, as more automakers are seeking growth in global businesses amid the slowdown in domestic market.
Besides, the group's overseas sales would hit 350,000 units this year, and it aims to sell more than 500 thousand units by 2020 and 600 thousand units by 2022, Yu De, deputy president of SAIC, told local reporters.
Facing the strong headwinds from the cooling market climate, the company is striving to foster new driving forces in NEV domain and overseas markets. The automaker previously said its NEV annual sales volume was forecasted to exceed 600,000 units by 2020. Based on the current status—roughly 82,000 NEVs were sold in the first half of the year, achieving the sales target still remains an arduous task.
Gasgoo