Premium auto brands still defy downward market trend in October
2019-11-27 21:25:06
Editor:Amanda
Font Size:Big Medium Small
In October, 188,981 consumers took delivery of China's locally-produced premium PVs, an impressive growth of 14.4% from the prior-year period, according to the China Passenger Car Association (CPCA). A turnaround in national auto sales growth is unlikely in the short term, while most premium carmakers still performed better than a year ago.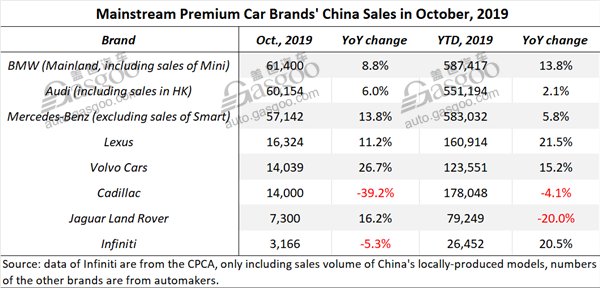 The CPCA's data exclude Lexus' sales since the brand has no locally-produced model in China so far. Nevertheless, Gasgoo hereby got Lexus listed for its significance to the country's second-tier luxury car market.
Germany's big three
Including the sales of Mini brand, BMW was honored the champion by both Oct. sales and Jan.-Oct. sales for China's market. Besides, its growth in monthly and year-to-date sales remained positive as well.
The deliveries of two sales drivers, the BMW X3 and the BMW 5 Series, reached 10,417 units (+75%) and 15,000 units (+19%) respectively in October, while the sales of the BMW 3 Series evidently dipped 17.5% year on year to 8,594 units, according to the CPCA. Besides, with 131,156 units delivered in the first ten months, the BMW 5 Series accounted for 22.3% of total BMW's China year-to-date sales.
In China, Audi achieved a new record-breaking figure in October, with the company delivering 60,154 cars, an increase of 6.0% year-on-year. Since the start of the year, deliveries have increased to 551,194 (+2.1%) vehicles. The Q models such as the Audi Q5 L (+52.9%) proved extremely popular in October. Audi continues to reinforce its SUV portfolio in China with the Audi Q8, which was launched last month.
Mercedes-Benz's China sales (excluding the sales of Smart brand) kept climbing in October. The retail sales of the Mercedes-Benz E-Class and C-Class amounted to 13,409 units (+14.6%) and 13,400 units (+27.7%) respectively, making the two models ranked third and fourth among China's locally-produced car models by Oct. deliveries, according to the CPCA. In addition, the Mercedes-Benz GLC-Class was the runner-up China-built SUV model in October, retailing 12,508 units (+30.2%).
In respect to year-to-date sales, BMW and Mercedes-Benz are so close. A big question still remains so far about which one would gain the champion honor by 2019 China sales.
It is worth noting that all three German premium car manufacturers have strengthened their EV onslaught in the world's largest auto market. Mercedes-Benz put the made-in-China EQC, the brand's first BEV model, onto the market earlier this month. The Four Rings' first all-electric model, the Audi e-tron, has been launched into China as an imported model on November 18.
Others
Last month, Lexus once again outsold Cadillac, netting 2,324 units. It boasted double-digit growth in both Oct. sales and Jan.-Oct. sales.
The sales volume of Lexus Hybrids edged up 3.3% month on month to 5,690 units in October. With roughly 53,800 units sold in total, the hybrid models accounted for 33.4% of the brand's cumulative China sales.
Cadillac might feel the stresses from Lexus' vigorous impetus. The General Motors-owned premium car brand still outperformed Lexus in terms of year-to-date China sales, while its Oct. sales plunged 39.2% to 14,000 units, even less than that of Volvo Cars.
The Cadillac CT6 was its fastest-growing model, retailing 2,250 cars with a year-over-year surge of 81.9%, according to the CPCA. From January to October, 15,950 CT6 cars were handed over to consumers, leaping 25.6% over the year-ago period. The deliveries of the mainstay SUV model, the Cadillac XT5, tumbled 22.4% to 44,259 units despite a 14.1% growth in Oct. sales.
Some analysists said Cadillac's sales downturn was caused by many factors. For instance, deliveries before July had been inflated by the blip resulting from dealers offering heavy discount to clear inventory of China Ⅴvehicles, and the production of two mainstay models—the XTS and the ATS-L—was about to cease.
Volvo Cars has been maintaining a stable sales growth in China. Sales in this country during the month reached 14,039 cars, up 26.7%, compared with the same period last year. The strong sales growth in the region was led by the locally produced XC60 and the S90. In the first ten months of the year, a total of 123,551 cars were sold in China, up 15.2% from the previous year.
Jaguar Land Rover posted a 16.2% growth in Oct. China sales, keeping double-digit increase for four consecutive months.
To further boost sales in China, the U.K.-based premium car maker plans to roll out 30 refreshed and all-new models into China by end-2021. Of those, the all-new Jaguar XEL is about to hit China's market at the end of November, 2019.
Last month, Infiniti sold 3,166 locally-produced vehicles in China, down by 5.3%. Year-to-date sales still jumped 20.5% from a year ago. The Nissan-owned brand is ready to launch the QX50 and Q50L limited editions this month at the Guangzhou International Automobile Exhibition.
Gasgoo