Top 10 Chinese-startup-built EV models by Oct. insurance registration
2019-11-27 21:17:06
Editor:Amanda
Font Size:Big Medium Small
In October, 6,459 consumers in China bought the Mandatory Liability Insurance for Traffic Accidents of Motor Vehicles (MLI) for EVs made by Chinese startups, 413 units more than that of a month ago, according to the China Insurance Regulatory Commission.
After 10 months through October, China's insurance registrations of startup-made vehicles amounted to 50,218 units.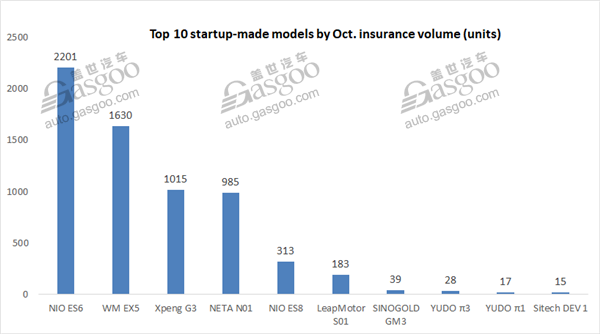 NEV sales volume in China has been dropping for four consecutive months due to the slash in governmental green-car subsidies. Chinese automakers sold roughly 75,000 NEVs last month, a year-on-year plunge of 45.6%, according to the China Association of Automobile Manufacturers (CAAM).
Nonetheless, some startups still defied the overall downward trend. The NIO ES6 was honored the champion startup-built model with its Oct. insurance registration surging 32% over a month ago to 2,201 units, the highest figure for 2019.
Following the ES6, the WM EX5 got a month-on-month growth of 22% with 1,630 units registered last month. The Xpeng G3 dropped to the second runner-up place with its Oct. insurance volume plunging 31% from September to 1,015 units.
Besides, the NETA N01 was ranked fourth with a month-over-month registration jump of 18%, and LeapMotor S01, with 183 units registered, moved up to the sixth place.
It is worth noting that 28 Leading Ideal One EVs got registered in October, while they all would be used for test drive or exhibition. The official customer delivery will start from December, 2019, according to Li Xiang, CEO of Leading Ideal.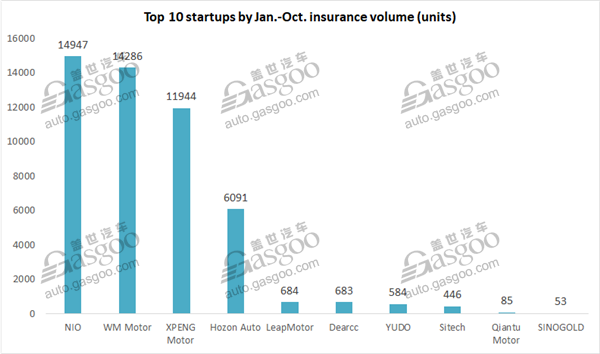 With respect to the startups' performances, NIO regained the championship with the combined registrations of the ES8 and the ES6 amounting to 14,947 units, followed by WM Motor. XPENG Motors maintained the second runner-up place from September.
Let's review the performances of the top 3 startups by Oct. volume.
NIO
The insurance volume of the ES6 soared to 2,201 units in October from 1,662 units in September, while the ES8's volume remained unchanged.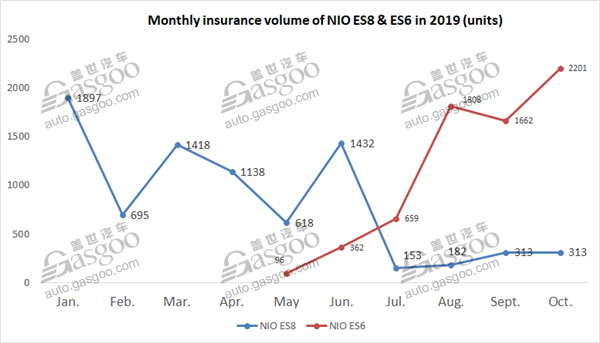 Hoping to receiving more orders and speeding up delivery, NIO is further improving its products and services. The ES6 and ES8 SUVs equipped with the 84 kWh battery pack have been delivered to consumers in October. Thanks to the higher capacity battery, NEDC-rated ranges of the two models extended to 510 km and 430 km respectively.
"Our solid sequential improvement in deliveries continued in October, mainly driven by the hard work and strong execution of our sales teams," said William Li, founder, chairman and chief executive officer of NIO. "We appreciate the support from our users and believe in the power of word of mouth as our vehicles and services continuously evolve and optimize. Meanwhile, we will continue rolling out NIO Spaces and expanding our sales network to support our future growth."
WM Motor
For the first ten months of 2019, the insurance volume of WM EX5 total 14,286 units, only 661 units less than the champion NIO.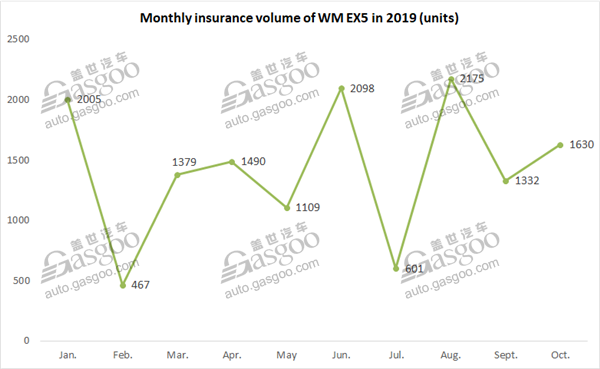 The startup put its all-new 5-seater SUV, the EX6 Plus, onto the market at the ongoing Auto Guangzhou 2019, priced RMB 239,900 after subsidy. The new model is expected to be a new growth driver to the company's deliveries.
On October 25, WM Motor forged a strategic partnership with State Grid Electric Vehicle Service Co., Ltd. (State Grid EV), a wholly-owned subsidiary of the Chinese state-owned electric utility monopoly State Grid, to provide consumers with more affordable and convenient EV charging services.
Under the latest cooperation, the users of WM Motor's GETnGO application would be given access to State Grid's self-developed charging piles. In some urban areas of Bejing, charging piles standing every 0.7 square kilometers will enable a driver to reach the nearest pile within only three minutes.
In the meantime, the EV startup said it would make joint efforts with State Grid to research and develop V2G (vehicle-to-grid) technology that uses batteries of EVs as intermediate storage and buffers for the entire power grid. If necessary, energy from EV fleets will be fed back into the grid to alleviate the grid's power supply pressure, notably during the peak demand hours. The collaboration will help WM Motor to expand its mobility service ecosystem along with other applications like V2H (vehicle-to-home).
XPENG Motors
Year-to-date insurance registrations of the Xpeng G3 reached 11,944 units, of which 79.14% vehicles were handed over to private users.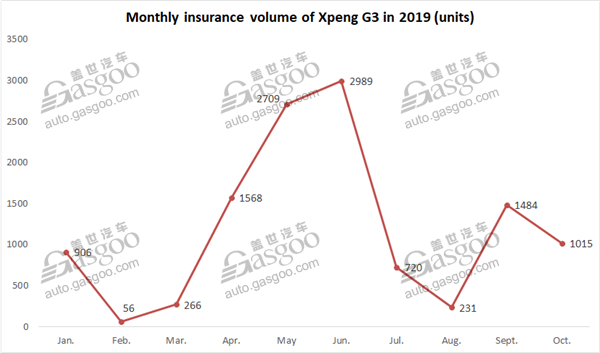 The Guangzhou-based startup announced the signing of its Series C capital funding of US$400 million from a group of strategic and institutional investors. Xiaomi Corporation, a global leader in the technology and consumer electronics sector, would join as a strategy investor.
Furthermore, the company claimed at the Auto Guangzhou that its P7 sport sedan would retail at presale prices ranging from RMB270,000 and RMB370,000 with 5 different trim levels.
The company said it had already obtained 15,431 pre-orders of the P7 since its debut at the Shanghai Auto Show in April 2019. Customer delivery of the P7 in China is expected to start in the second quarter of 2020.
Besides, the P7 will be delivered through XPENG's expanding retail network, with 86 sales stores already in place by end-October, rising to over 100 by year-end. The network also comprises 49 service centers already in operation, and will increase to nearly 100 by year-end.
Gasgo