JD.COM sells tires at lower-than-wholesale prices
2017-4-7 19:05:46
Editor:Amanda
Font Size:Big Medium Small
JD.COM, one of China's leading e-commerce platforms, is reported to promote wholesaling business of tires, engine oil and automobile parts.
On March 23, customers can buy Continental CC6 205/55R16 tiresat the lowest price of 459 yuan/piece after using coupons on JD.COM, while the price of the same product is 500-600 yuan/piece in practical stores.
Purportedly, the wholesale price of Continental CC6 tire is about 460 yuan a piece.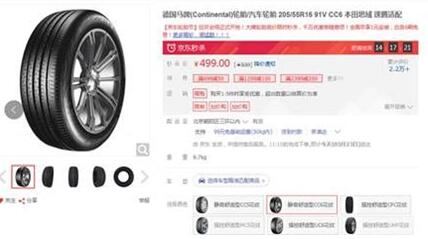 Such a situation also applies to other tire brands. Michelin XM2 205/55R16tire was sold at 469 yuan a piece on JD.COM with coupons, while the wholesale price for practical stores is around 490 yuan a piece.
According to industry insiders, JD.COM aims to attract tire consumers to online channels with cheaper prices.
With a rapid growth in the number of Chinese car owners,the demand for replacing tires is expected to demonstrate an exceptional potential.
In the meantime, it has become a major trend that Chinese consumers prefer shopping online to shopping with practical stores.
Currently, the auto makers and 4S stores dominate nearly half of the after-sale market of the automobile industry, while the other half is scattered in various suppliers of auto parts everywhere in China.
Whether JD.COM can construct the B2B wholesaling business via connecting the Internet and manufacturers of major brands will be a key step in commpleting its layout of supply chain.
Tireworld