Natural rubber import volume sees m-o-m decline in May
2017-7-20 14:55:56
Editor:Amanda
Font Size:Big Medium Small
China's import of natural rubber in May totaled 230,000 tons, down 11.5% from Apr.; the import value was 3.04 billion yuan, down 17.3%; and the average import prices was 13,204.3 yuan/ton, down 6.5%, according to statistics released by the General Administration of Customs.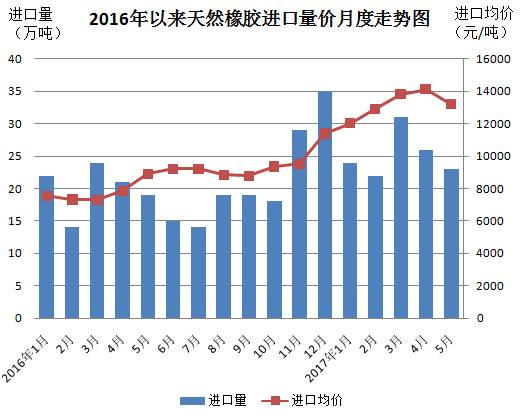 High inventory and low demand are the key factors for the phenomenon.
The price of natural rubber stopped years long sluggish trend and started to rebound in Oct. 2016. This Jan., Thailand, China's largest rubber import origin, suffered severe flood disaster.
Natural rubber price went all the way up as stimulated by the expectation of output decrease and once touched 22,450 yuan/ton. Chinese traders had all increased imports.
However, large amount of natural rubber imports have been kept in the bounded areas due to sluggish demand, while the inventories in the bounded areas are mounting up.
As of end-May, the inventory in Qingdao Free Trade Zone alone topped 276,000 tons, up 3.1%.
Affected by high product inventory and sluggish market demand, many Chinese tire producers' capacity utilization have been low since May.
Meanwhile, tire distributors have also stocked large amount of tires since last year and are unwilling to stock more.
More than 70% natural rubber are consumed by the tire sector. Low capacity utilization in the sector leads to oversupply of natural rubber, and result in smaller import volume and decline in average import price on a monthly basis.
Tireworld