China's vehicle sales in Q1 decline 11.32% year on year, CAAM
2019-4-13 20:13:55
Editor:Amanda
Font Size:Big Medium Small
China's vehicle outputs and sales in March reached 2,558,000 units and 2,520,000 units, down by 2.73% and 5.18% year on year, according to the China Association of Automobile Manufacturers (CAAM).

For the first quarter of the year, the vehicle outputs and sales in this country were 6,335,700 units and 6,372,400 units, dropping 9.81% and 11.32% over a year ago respectively. Compared to the 14.94% year-on-year decrease in Jan.-Feb. sales, the negative growth in year-to-date (YTD) sales has been somewhat shrunk.
PV sales in March showed a year-on-year decline of 6.88%, while surged 65.6% month on month. For the first three months, PV sales totaled 5,262,800 units, 13.72% less than that of a year ago. Although the PV segment still faced a downturn, situation seems to get better considering the 17.51% and 17.71% decrease for Jan.-Feb. sales and Jan. sales.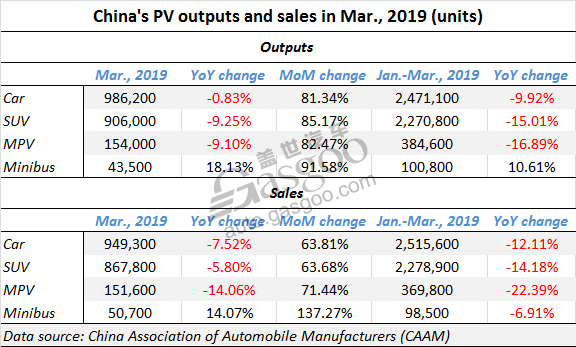 All segments of the PV sector gained month-on-month jump of over 60% in March sales. Nevertheless, sales of car, SUV and MPV segments in March fell 7.52%, 5.8% and 14.06% respectively over the year-ago period. As to Q1 sales, the aforesaid three major segments posted sales decrease of 12.11%, 14.18% and 22.39% respectively, all less than their corresponding decline in Jan.-Feb. sales.
Gasgoo