New energy vehicles see new wave of growth
2014-9-4 14:34:46
Editor:Amanda
Font Size:Big Medium Small
New energy vehicles see large influx of new sales as tax exemption policy comes into effect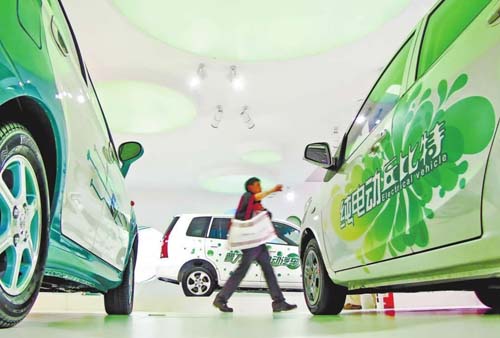 This Monday marked the first day that new energy vehicles are exempted from the vehicle purchase tax. According to a report appearing to the Securities Times, orders for new energy vehicles have soared through the roof this week. New energy vehicle sales are expected to have undergone a new wave of growth by the end of the year.
Zhou Chenjie, sales manager of Shanghai EVBUY World Expo dealership, explained that the number of consumers coming to his shop to buy new energy vehicles has increased noticeably this week. "Although we don't have any specific statistics, it is clear that the policy change has been attractive to consumers, " Mr. Zhou stated. A representative from a SAIC Roewe dealership echoed these sentiments, adding that nearly half of the buyers who have already made orders for E50s have shifted their order dates to after September.
However, one thing worth mentioning is that plug-in hybrid vehicles appear to be much more attractive to buyers than pure electrics. Mr. Zhou explains: "Among the buyers at our dealership, 80 to 90 percent of new energy vehicle buyers are purchasing hybrids."
Analysts believe that unpopularity of pure electric vehicles is due to the limited driving range of pure electric vehicles and lacking charging infrastructure in the country. Owners lacking a permanent garage or parking space are even more likely to prefer hybrids over pure electrics. As plug-in hybrids are also eligible for similar subsides to pure electric vehicles, they have managed to gain the favor of Chinese automobile buyers. According to reports, six plug-in hybrid models from JAC Motors, BYD, GAC and SAIC all appear on the Ministry of Industry and Information Technology's list of new energy vehicles exempt from the vehicle purchase tax.
In order to increase the popularity of pure electric vehicles, analysts have recommended that government introduce relevent policies. Previously, the State Council announced its goal of ensuring that over 30 percent of new official government vehicle purchases are new energy automobiles. Although official government automobiles sales have been falling recently due to anti-corruption measures, there are still an influx of new purchases being made for new buses and police vehicles.
Analysts expect new energy vehicle sales to total 70,000 to 80,000 units by the end of this year. According to statistics from the Ministry of Industry and Information Technology, 25,900 new energy vehicles have been sold in the country from January to July, nearly triple the amount produced between January and July of last year. As such, the sales volume for the remaining few months of the year is expected to be over double the amount sold over the first half of 2014.
Gasgoo