Malaysia's June exports bounce back with 8.8% growth, boost from China, US
2020/7/28 21:04:49
Editor:Amanda
Font Size:Big Medium Small
Malaysia's exports in June rebounded with an 8.8% growth of RM82.9bil, a sharp contrast with a Bloomberg survey of a 10% decline, due to higher exports to China and also electrical and electronic (E&E) products and rubber products.
Chief Statistician Datuk Seri Dr Mohd Uzir Mahidin said on Tuesday the country's exports seemed to have recovered from the impact of the Covid-19 pandemic compared with a decline of 25.5% in May.
He said the expansion in exports was attributed to higher exports to China (+RM4.7bil), the US (+RM2.1bil) and Hong Kong (+RM1.4bil). However, exports to India decreased by RM1.4bil.
The main products which contributed to the expansion in exports were electrical and electronic products (+RM4.5bil), rubber products (+RM1.8bil), palm oil and palm oil-based agriculture products (+RM1.5bil), optical and scientific equipment (+RM993.6mil) and machinery, equipment and parts (+RM951.4mil).
Mohd Uzir said re-exports increased by 5.3% on-year to RM12.9bil and accounted for 15.5% of total exports. Domestic exports rose by 9.5% or RM6.1bil to RM70bil, " he said.
In contrast, imports fell 5.6% to RM62bil, or less than the Bloomberg survey of a 13.1% decline.
This resulted a trade surplus of RM20.9bil and widened by 98.7% compared with June 2019.
"This was the largest trade surplus ever recorded thus far. The largest trade surplus was previously recorded in October 2019 with a value of RM17.3bil.
Meanwhile, Malaysia's total trade stood at RM144.8bil, expanding by 2.2% compared to the same month last year, he said.
June registered lower imports mainly from the European Union (-RM1.1bil), Singapore (-RM772.8mil), Thailand (-RM723.1mil) and South Korea (-RM706.6mil).
There were decreases in imports for petroleum products (-RM2.4bil), transport equipment (-RM1.7bil) and crude petroleum (-RM1.1bil).
He said the decrease in imports by end use was attributed to intermediate goods which fell by 10.8% or RM4.1bil to RM34.1bil.
Imports of consumption goods and capital goods rose by 9% to RM6.1bil and 2.8% to RM7.3bil respectively.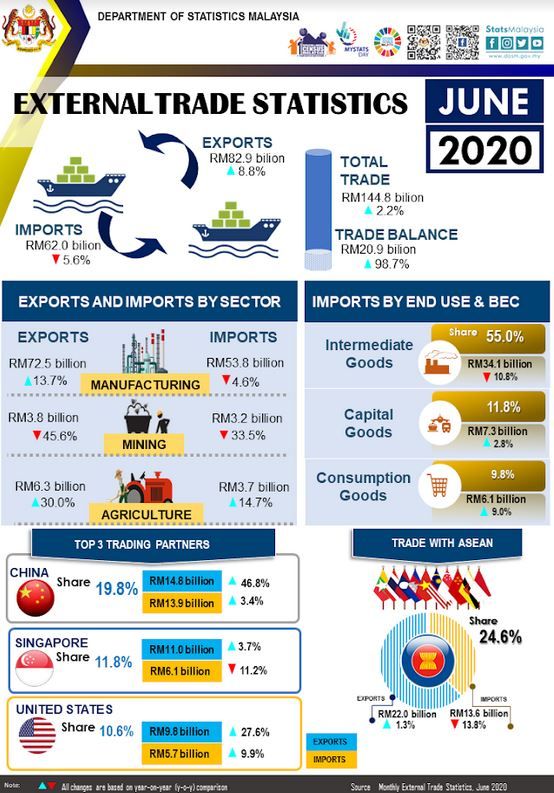 The Star