New Push Planned for Tire Labeling in China
2012-7-22 0:00:00
Font Size:Big Medium Small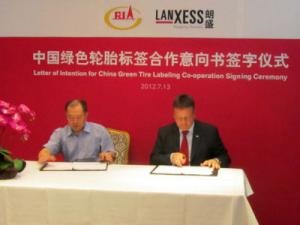 Lanxess reports it will work with the China Rubber Industry Association (CRIA) toward developing and implementing tire labeling in China.
The two parties signed a letter of intent on July 13, and the German specialty chemicals and synthetic rubber specialist says it and the CRIA have "agreed to cooperate closely on sharing knowledge and expertise" in this area.
As part of the agreement, Lanxess will support a CRIA-organized delegation visit to Europe in September 2012. The purpose of this trip, it says, is to build an effective communication platform for Chinese tiremakers to understand the regulatory framework of tire labeling in Europe and how it could be suitably implemented. In addition, Lanxess will participate in the drafting process of the "Raw Material Guide for Green Tire Industrialization" document and take part in CRIA-led meetings and exchanges.
"Lanxess believes in using its international experience, innovative technologies and principles of sustainable development to help meet the most serious challenges affecting green mobility in China," said Martin Kraemer, CEO of Lanxess Greater China during the signing ceremony. "We believe that through this cooperation, we can learn from each other and contribute to the development of the tire industry in China."
Tire Review