Top 10 SUV models in China by July wholesale volume
2020/8/14 20:03:45
Editor:Amanda
Font Size:Big Medium Small
For the month of July, automakers in China sold roughly 1.668 million locally-produced PVs (referring to cars, SUVs, MPVs and minibuses), a year-on-year growth of 7.4%, according to the China Passenger Car Association (CPCA). For the Jan.-Jul. period, the homegrown PV wholesales volume added up to 9.481 million units, falling 18.8% over a year ago.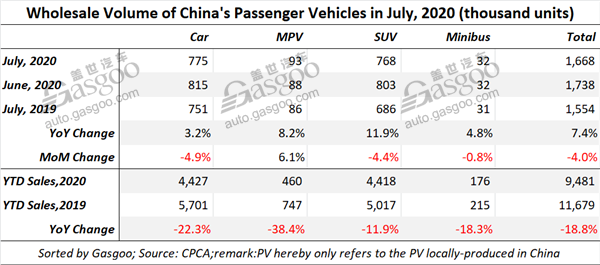 Among four sectors, the SUV was the fastest-growing one with its July wholesales rising 11.9% from the year-ago period to 768,000 units. For the first seven months, a total of 4.418 million SUVs were sold by automakers, a year-over-year decrease of 11.9%.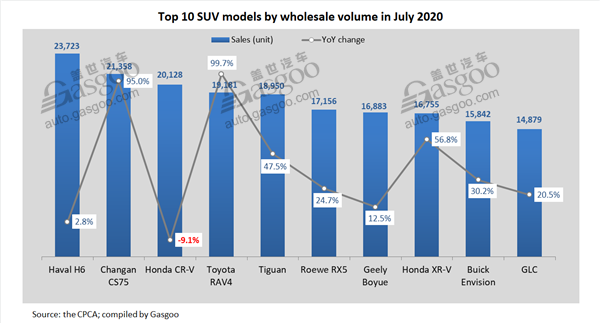 Compared to June, the first two hotter-selling SUV models by July wholesale volume were still the Haval H6 and the Changan CS75.
The Haval H6 wholesales edged up 2.8% month on month to 23,723 units. The new Haval H6 (the second-generation) has hit the market on August 10 to consolidate Haval's presence in the SUV market priced around 100,000 yuan ($14,416). Besides, the presale of the third-generation one has already kicked off, which is launched to tap a more upscale domain.
The sales of the Changan CS75 represented a remarkable year-on-year surge of 95%, 2,365 units fewer than that of the best-selling Haval H6. Its vigorous growth significantly contributed to the rising performance in Changan Automobile's sales.
Among the top 10 SUV models, the Honda CR-V was the only one whose July sales showed year-on-year decrease. It needs to take on Breeze, a CR-V-based SUV model launched by GAC Honda.
Ranked fourth, the Toyota RAV4 boasted the biggest increase among the top 10. To cope with the increasingly fierce competition from the overall SUV market--especially the Wildlander, which is identified as a restyled Toyota RAV4, FAW Toyota rolled out three special editions of the RAV4 in April.
The sales of the No.5 to No.10 models all grew year on year at a double-digit rate. Notably, there was a luxury SUV model—the Mercedes-Benz GLC. Except the virus-hit February, the sales of the GLC-Class have been basically standing at over 10,000 units so far this year.
Gasgoo