Chinese automakers revealed sales target in 2020
2020-2-7 17:38:01
Editor:Amanda
Font Size:Big Medium Small
Many automakers in China have set the sales goal they will try to accomplish in 2020. According to the data compiled by Gasgoo, most of them offered a conservative target due to the prolonged downturn that hits both carmakers and the overall auto industry. Nonetheless, there are also some exceptional companies setting a rosy picture based on their blooming performances in 2019.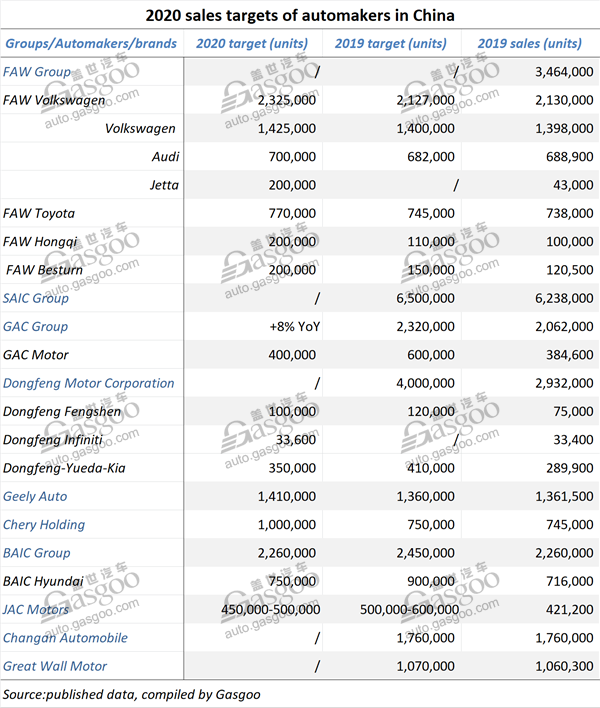 On the other hand, the national outbreak of new coronavirus has disturbed automakers' production plan as most of them have been requested to postpone restart of plant operation after the Lunar New Year holiday. Besides, the product roll-out plan and the work of suppliers will be correspondingly affected as well. The immense impact makes the outlook of the target completion more uncertain for every carmaker.
FAW Group
FAW Group sold 3.464 million vehicles through 2019, achieving a growth of 1.3% compared with the year-ago period, and outpacing the overall auto industry by 10 percentage points, the state-owned automaker announced via its WeChat account.
Besides, the group saw its full-year revenue of 2019 climb 4.4% year on year to RMB620 billion, for the first time surpassing 600 billion. Besides, its annual profit also edged up 2.2% to RMB44.05 billion.
For the year of 2020, both Hongqi and FAW Besturn aim to sell 200,000 vehicles, nearly doubled over their 2019 actual sales.
The premium brand Hongqi announced its 2019 cumulative sales had surpassed 100,000 units as of December 26, versus a sale volume of 33,028 units for 2018. To double its annual sales, Hongqi intends to enrich its product lineup by rolling out two new models in 2020, namely, the H9 flagship sedan and the E115 all-electric SUV. Besides, the H5 series will be added with 1.5T and 2.0T versions, and the HS7 2.07T version will be launched as well, according to local media reports.
With around 120,500 vehicles sold in total, FAW Besturn boasted a year-on-year surge of 33.4% in 2019. In the future, it is going to form a product lineup composed of four model series—"B" "E" "S" "T". Based on the FME platform, Besturn's first all-electric model code-named C105 is set to go on sale at the Auto China 2020 in Beijing.
Compared to self-owned brands' aggressive ambition, the goals set by joint ventures look much milder. FAW Volkswagen increases its annual sales target by 198,000 units over that of 2019, while the task is mainly on the shoulder of Jetta. The other two brands—Volkswagen and Audi—respectively target sales volume of 1.425 million and 700,000 units for 2020, 27,000 units and 11,100 units more than their 2019 full-year sales.
FAW Toyota increases its yearly sales goal to 770,000 units in 2020 from 745,000 units in 2019. The Sino-Japanese joint venture rolled out a number of new products last year, including the all-new Corolla and the all-new RAV4. In 2020, such new models as the IZOA EV and the RAV4 PHEV are scheduled to go on sale, and a fire-new SUV model based on the same platform with the all-new Highlander is expected to be launched as well.
SAIC Motor
SAIC Motor announced its annual sales in 2019 shrank 11.54% from a year ago to 6,237,950 units, failing to fulfill its original target.
However, after suffering 15-straight-month year-on-year downturn, the Chinese biggest automaker finally posted growth in December.
The Chinese biggest automaker has not released the concrete number for its 2020 goal. Some industry insiders predicted that SAIC's sales volume will sit between 6 million and 7 million units in 2020 under the drawn-out downward pressure.
Among the five subsidiaries whose full-year sales all exceeded 100,000 units, only SAIC Maxus sold more vehicles than that of 2018. Notably, the champion SAIC Volkswagen featured a decrease of 3.07%, 3.65 percentage points fewer than the drop in Jan.-Nov. sales. Clearly, the contracted decline should be attributed to the 37.67% surge in its Dec. sales.
Both SAIC-GM-Wuling and SAIC-GM confronted double-digit decrease in YTD sales. The New Baojun, a brand launched in last April, will be a highlight to SAIC-GM-Wuling's 2020 development strategy. Reportedly, the young brand plan to roll out six all-new models and four face-lifts this year.
Last year, SAIC Motor sold roughly 350,000 complete vehicles in overseas markets, a significant growth of 26.5% compared with 2018. Of that, the sales of MG-branded cars zoomed up 90% to 139,000 units. It expects its overseas auto sales to reach 1 million units by 2025, according to a senior executive of the company, as more automakers are seeking growth in global businesses amid the slowdown in domestic market.
GAC Group
GAC Group said its full-year auto production and sales of 2019 were better than expected. Last year, the automaker output 2,023,814 vehicles (-7.76%) and sold 2,062,160 new vehicles (-3.99%), and had roughly 2.0849 million vehicles delivered to consumers.
The Guangzhou-based automaker has announced it will strive to achieve a year-on-year sales growth of 8% in 2020. Focusing on the 13th Five-year Plan and the "e-TIME" Plan, the group intends to roll out a number of new self-owned models, including two NEV models, the mid-cycle refresh of the Trumpchi GA8, GM8, GS3 and GA4, as well as the GS4 PHEV.
GAC Motor, the group's self-owned PV subsidiary, sets a conservative goal of 400,000 units. The future launch of the aforementioned Trumpchi-branded models is expected to help the company evidently boost its sales this year.
In spite of the group's overall downturn, two major Sino-Japanese joint ventures eventually maintained their rising impetus. In 2019, GAC Honda boasted a year-on-year growth of 3.98% with 770,884 vehicles sold, and GAC Toyota's annual sales leapt 17.59% to 682,008 units.
According to local reports, GAC Honda will roll out at least three new key models in 2020, namely, the new AVANCIER, the Crider PHEV and the all-new Fit. GAC Honda is ready to bring such new products as the Wildlander SUV and the CH-R BEV.
Dongfeng Motor Corporation
Dongfeng Motor Corporation, along with its subsidiaries, sold 2,931,953 new vehicles throughout 2019, posting a year-on-year downturn of 3.94%. Of those, PV sales shrank 5.67% to 2,463,620 units, while CV sales climbed 6.3% to 468,333 units.
Dongfeng Fengshen aims to sell 100,000 units in 2020, 20,000 units less than its 2019 goal, while 25,000 units more that its 2019 actual sales. New products to be launched this year include three all-new models, a mid-cycle refresh and two annual updated models.
The joint venture Dongfeng-Yueda-Kia also lowered its sales target compared to the previous year. Besides, Dongfeng Infiniti sets a goal almost remaining flat over its 2019 sales volume.
Last year, Dongfeng Honda successfully completed its 800,000-unit sales target. In 2020, the Sino-Japanese joint venture will roll out at least five new models—the Civic hatchback, the Envix 1.5L HEV, the sibling of the all-new Fit, the XR-V HEV and the CR-V mid-cycle refresh.
BAIC Group
BAIC Group said its full-year sales in 2019 dropped 5.91% over a year ago to 2.26 million units, while the annual revenue climbed 4.26% to RMB501.23 billion.
The Beijing-based automaker adopts a scrupulous attitude towards its 2020 picture by setting a target no higher than its 2019 sales volume. If the goal was reached ahead of schedule, BAIC Group will strive to fulfill a higher target of 2.35 million units.
Beijing Hyundai was ambitious to sell 900,000 units in 2019, while only 80% of the goal was eventually achieved. Thus, the target set for 2020 is only at 750,000 units. To promote sales, the joint venture will roll out several new models like the tenth-generation SONATA, the LA FESTA EV, the all-new Elantra and an all-new MPV.
Geely Auto
For the year of 2019, Geely Auto sold a total of 1,361,560 new vehicles, posting a decrease of roughly 9% over the prior-year period, while successfully achieving the 1.36 million-unit sales target for 2019. Considering the complex and changeable market climate, the automaker makes its 2020 target only 50,000 units more than that of 2019.
Geely Auto plans to put six new models onto the market in 2020, including the BMA-based ICON, the CMA-based Lynk & Co 05, a Geometry-branded all-electric SUV code-named GE13 and an all-new full-sized SUV "Haoyue".
Mercedes-Benz AG (Mercedes-Benz) and Zhejiang Geely Holding Group (Geely Holding) announced on Jan. 8 that they had formally established the global joint venture "smart Automobile Co., Ltd." for the smart brand after receiving the regulatory approvals. The collaboration is expected to make a substantial progress in 2020.
Chery Holding
Chery Holding closed its 2019 with an annual sales volume of 745,000 new vehicles, versus 752,759 units for the year of 2018, according to Chery's statements. Of that, the sales of the group's self-owned models climbed 6.9% year on year.
Last year, Chery Holding and its subsidiary Chery Automobile Co.,Ltd successfully got a same controlling shareholder, the private enterprise Qingdao Wudaokou New Energy Industrial Fund, as part of efforts for the state-owned group to achieve its strategic blueprint for 2025. The group will put forth utmost efforts to sell more than 1 million new vehicles and earn RMB150 billion in revenue in 2020.
JAC Motors
JAC Motors said its full-year sales slid 8.91% from the previous year with both the PV and CV units posting decrease.
The company expects the combined sales of its complete vehicles and chassis to reach 450,000 to 500,000 units in 2020, according to a filing from the company on December 11. The target is 50,000 to 100,000 units less than that of the 2019 plan.
In 2020, JAC Motor will renovate its SUV lineup by launching such models as the new Refine S4, the all-new Refine S5 and the Refine S7 Pro. The BEV version of the Jiayue A5 is anticipated to hit the market this year.
Gasgoo