Top 10 SUV models by February sales in China
2018-3-15 15:31:31
Editor:Amanda
Font Size:Big Medium Small
According to the sales data released by the China Passenger Car Association, Haval H6 was no longer the champion by monthly sales in SUV segment with its ranking dropped to the second on the list. From the statistics, it can be learnt that Haval H6 whose February sales were 30253 units had suffered substantial sale decline both year on year and month on month in the past February.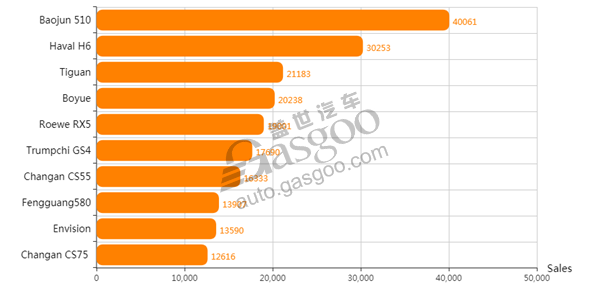 The new champion who terminated Haval H6's 57-consecutive-month championship is Baojun 510. Last month, the deliveries of Baojun 510 skyrocketed 395.44% year on year to 40,061 units. Since it hit the market in February last year, the sales of Baojun510 have gradually increased. In fact, the sales gap between Haval H6 and Baojun510 had already been narrowed to around 1,000 units according to their January sales.

Compared to the previous sales performance, Fengguang 580 was a newcomer on the sales list. Apart from that, the ranking changes of the other models on the list were relatively mild. Tiguan, ranking third on the list, achieved a remarkable year-on-year sales growth of 193.15% to 21,193 units last month with its ranking increased 2 places over the January. In addition, Boyue, Envision and Changan CS75 all maintained their rankings on the list from the previous month, at fourth, ninth and tenth respectively.
Mainly affected by the Spring Festival, all SUV models on the list faced month-on-month sales decreases with different degrees.
Gasgoo