China February PV sales fall 0.5%
2018-3-15 15:28:17
Editor:Amanda
Font Size:Big Medium Small
China sold 1,441,716 passenger vehicles in February, down 0.5 percent from a year earlier, according to data from the China Passenger Car Association. In the first two months of this year, the passenger vehicle sales jumped 4.6 percent to 3,689,686 units. Here, the passenger vehicle covers sedan, MPV and SUV.
The sales performance was not a surprise for the association. Because of the Spring Festival holiday, there were only 17 workdays in February.
All three segments, sedan, MPV and SUV, saw double-digit month-on-month sales slump in February while only MPV segment sales decreased year on year. The year-on-year sales growth of sedan segment and SUV were respectively 1.3 percent and 1.6 percent.

The competition among automakers seemed much more intense when the overall industry sales were sluggish. There was a rank reshuffle on the top 10 automaker list. Last month, SAIC GM was the best seller slightly ahead of SAIC VW while FAW VW, the champion by January sales, fell to the fourth place.
What's worth mentioning, SAIC Motor Passenger Vehicle ranked ninth after it first entered the list in January, with a sales volume of 46,966 units.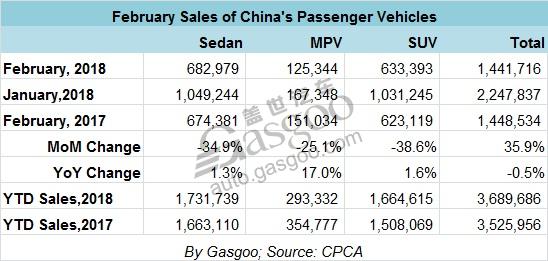 Gasgoo