Top 10 sedan models by January sales in China
2018-2-27 10:43:46
Editor:Amanda
Font Size:Big Medium Small
According to the data released by the China Passenger Car Association, the top 10 sedan models by January sales in China were mostly from JV brands. Emgrand EC7 was the only one model from self-owned brand, ranking tenth on the list with 25,597 units delivered last month, slightly decreasing 2.72% year on year, while increasing 15.88% month on month.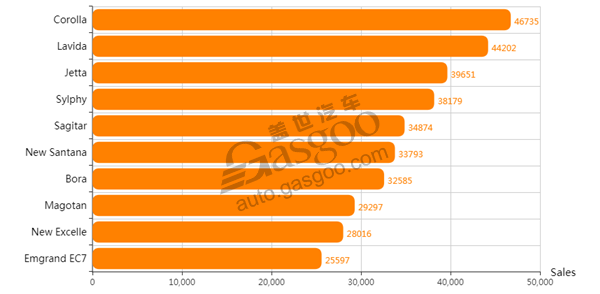 Corolla, a model produced by the Sino- Japanese JV FAW-Toyota, became the champion by January sales in sedan segment. Its January sales reached 46,735 units, surging 77.69% from a year earlier and skyrocketing 140.83% over the previous month. This performance was such a surprise, since it had not entered into the top 10 sales list in December 2017.

Lavida, the champion in December last year, dropped 1 place on the list. Last month, 44,202 units of Lavida were delivered, falling 15.69% from the previous year and slightly slipping 2.97% month on month.
From the top 10 list, it can be learnt that half of sedan models achieved substantial month-on-month sales growth of over 40% in January, including the champion Corolla. Especially, Jetta and New Santana, ranking third and sixth on the list, achieved remarkable month-on-month sales growth of 183.93% and 99.58% respectively in January.
Besides, New Excelle suffered sales loss both year on year and month on month, with its ranking dropping 6 places to ninth on the list.
Gasgoo